Funding source: The European Union's Horizon 2020 research and innovation programme under the Marie Skłodowska-Curie co-financed by the Ministry of Science and Higher Education from the funds for science for an international co-funded project.
Project number: H2020-MSCA-COFUND-2018 grant agreement No. 847413.
PI at IPC: Martin Jönsson-Niedziółka
PI at co-partner organization:
Prof. Maarten Roeffaers – Catholic University of Leuven (KU LEUVEN)
Prof. Giacomo Bergamini – University of Bologna (UNIBO)
Total funding (whole programme): 11 283 319 PLN
At IPC (whole programme): 5 418 748 PLN
Short description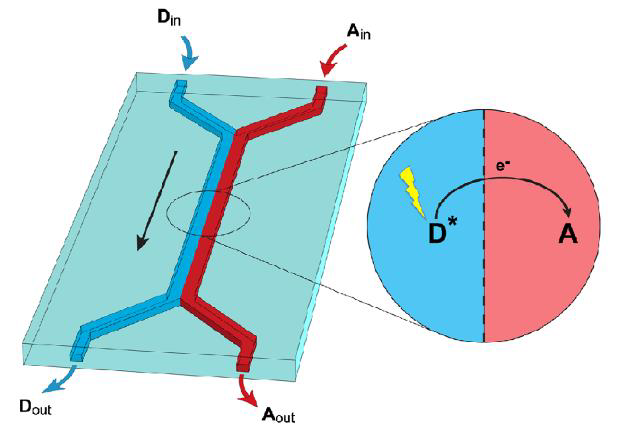 In recent years, a growing emphasis has been put on the development of clean energy technologies and processes based on renewable energy sources like sunlight. Solar power is the key to a clean energy future. The sun's energy can be captured to generate chemical or electrical energy via engineering energy conversion devices. The artificial photosynthetic devices need the parallel functionality of a variety of components for the efficient operation. Therefore, an integrative challenge of developing and transferring light-fuelled chemical processes from a fundamental proof-of-principle to an exploitable process is to embark upon a dynamic configuration. There have been a number of artificial photosynthesis demonstrations that have been involved in sustainable free-radical-mediated processes for organic synthesis and solar fuels production. Nevertheless, relatively few have included all the above-mentioned principles necessary to achieve the efficient solar conversion and develop solar-driven technology. Consequently, this research project is expected to provide a durable and versatile microfluidics system for solar energy conversion. It is assumed that microfluidic devices will significantly improve efficiency and reproducibility of photo(electro)catalytic processes and facilitate them scalability.
Posts tagged with PD2PI.
Publications
E. Kuna, D. Mrdenovic, M. Jönsson-Niedziółka, P. Pieta, and I. S. Pieta
Bimetallic nanocatalysts supported on graphitic carbon nitride for sustainable energy development: the shape-structure-activity relation, Nanoscale Adv. 3, 1342-1351 (2021). (link – OA)(blog)
M. Z. Wiloch, E. Kuna, S. Kosiorek, V. Sashuk, M. Jonsson-Niedziolka
The spectroelectrochemical behaviour of 1,4‐dimethoxypillar[5]arene (P5A) and its monomer in different organic solvents, ChemElectroChem 8, 1507– 1515 (2021). (link – OA)(blog)