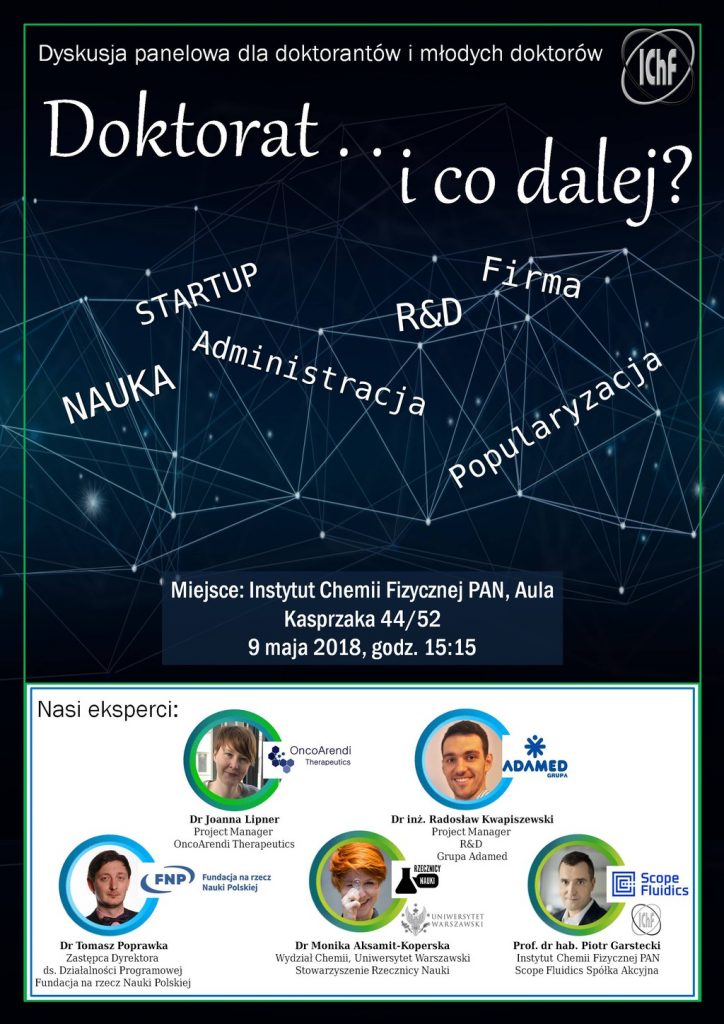 On 9th of May Emilia organized a discussion panel entitled "PhD… and what next?" ("Doktorat… i co dalej?"). Event was dedicated to PhD students and young doctors and the opportunities that they are facing in today's job market.
The time that Poland had 2500 PhD students all together are long gone (that was in the year 1990 according to the National Statistics Office GUS) and it's impossible to think that the more than 40 000 PhD students that we have today will all find a job in academia. But is it really a problem? Aren't there other interesting job opportunities?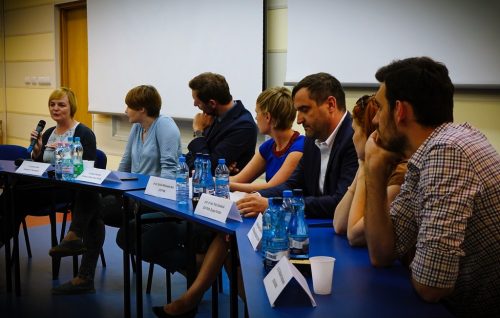 This event was chaired by Emilia and invited panelists represented a few different possible carrier paths. We hosted members of industry, as Dr Radosław Kwapiszewski, a project manager from one of the biggest pharmaceutical companies in Poland – Adamed Group – which is  on the market for more than 30 years and employs over 2000 people both in Poland and abroad. Dr Magdalena Tyszkiewicz and Dr Joanna Lipner –both from OncoArendi Therapeutics told us how is to work in a smaller company which is just gaining momentum in the market and how a person with a PhD is seen by the recruiters.
A completely different path was chosen by another panelist, Dr Tomasz Poprawka, who after a PhD in Great Britain and postdoc in Japan decided to shift towards administration of science, and now as a Deputy Director of the Programme Division, oversees the programs of the Foundation for Polish Science. So even if you do not see yourself holding a pipette in your hand all your life, nothing is lost, there are cool jobs where you can still get involved in top research and shape the way science is going.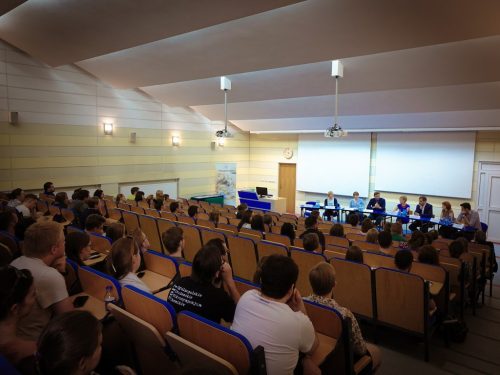 And if you do not want to leave academia completely? Is it possible to kill two birds with one stone? We guess yes! As an example we can take prof. Garstecki, who leads one of the most successful research groups here at IPC PAS and also is a cofounder of technological startups and now also a joint-stock company Scope Fluidics which is responsible for market introduction of the developed technology. The same is true for our last guest, Dr Monika Aksamit-Koperska, who joins daily scientific work at the University of Warsaw with science communication activities. She is not only a representative of The Spokesmen of Science (Stowarzyszenie Rzecznicy Nauki) but also leads TV science shows, organizes popularization meetings on science picnics and festivals in Poland and abroad.
We surely can call this event a success, with panelists able to draw attention of the almost full(!) auditorium until the last minute. A big thanks to all the panelists and the audience for such a great event and as it worked out so well let's hope for more of this kind of initiatives – the next time maybe in English 🙂