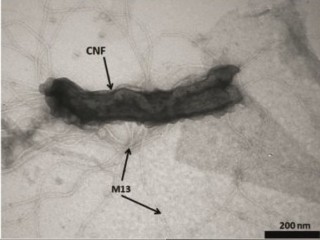 A new paper using bacteriophages for electrode modification was just published in Sensors and Actuators B. The work was mainly done by Katarzyna Szot-Karpińska in our neighbouring group, but Martin had a small part in the analysis of the data and in the imaging of the electrodes.
Here, the bacteriophage M13 – a filamentous virus – is used together with carbon nanofibres to modify the surface of an ITO electrode or glassy carbon electrode. The bacteriophages seem to make the surface more hydrophilic and thereby enhances the electrochemical properties of the electrode. As a model system, the phage-fibre electrodes were used for the oxidation of cysteine catalysed by catechol.
It should be pointed out that in the present paper the bacteriophages used were wild-type phages. In a previous publication in Bioconjucate chemistry*, Katarzyna showed that phages can be selected to specifically bind to CNFs. But that was not the case here.
---
*In an issue were the cover image was made by Martin.