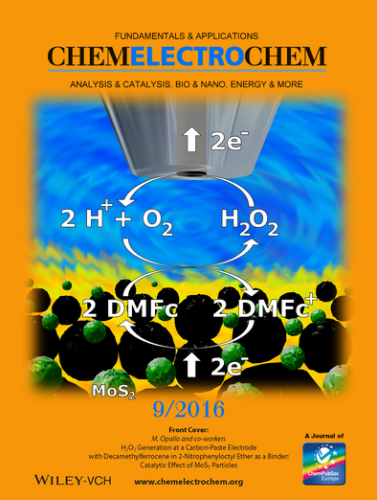 Another paper in the series on H2O2 generation at liquid|liquid interfaces appeared in ChemElectroChem a while back. Wojtek is a co-author together with members of the Opallo-group and Hubert Girault from Lausanne.
In the paper we describe the use of a carbon paste electrode (CPE) for generation of H2O2 at a nitrophenyloctyl ether (NPOE)|water interface. A CPE is made of electrically conductive graphite particles mixed together with catalytically-active MoS2 particles and NPOE solution containing strong electron donor, decamethylferrocene (DMFc). When the CPE is immersed into an aqueous HClO4 solution, DMFc reduces oxygen from the aqueous phase to give H2O2. Owing to the architecture of the CPE, the reaction takes place effectively at NPOE|W microinterfaces inside of the electrode body. For this reason, the CPE can also be used for electrochemical regeneration (via reduction) of DMFc after the reaction.
The article was also featured on the cover* of ChemElectroChem.
* Doesn't "cover" sound very old? Does anyone actually read a print version of journals anymore?